Top News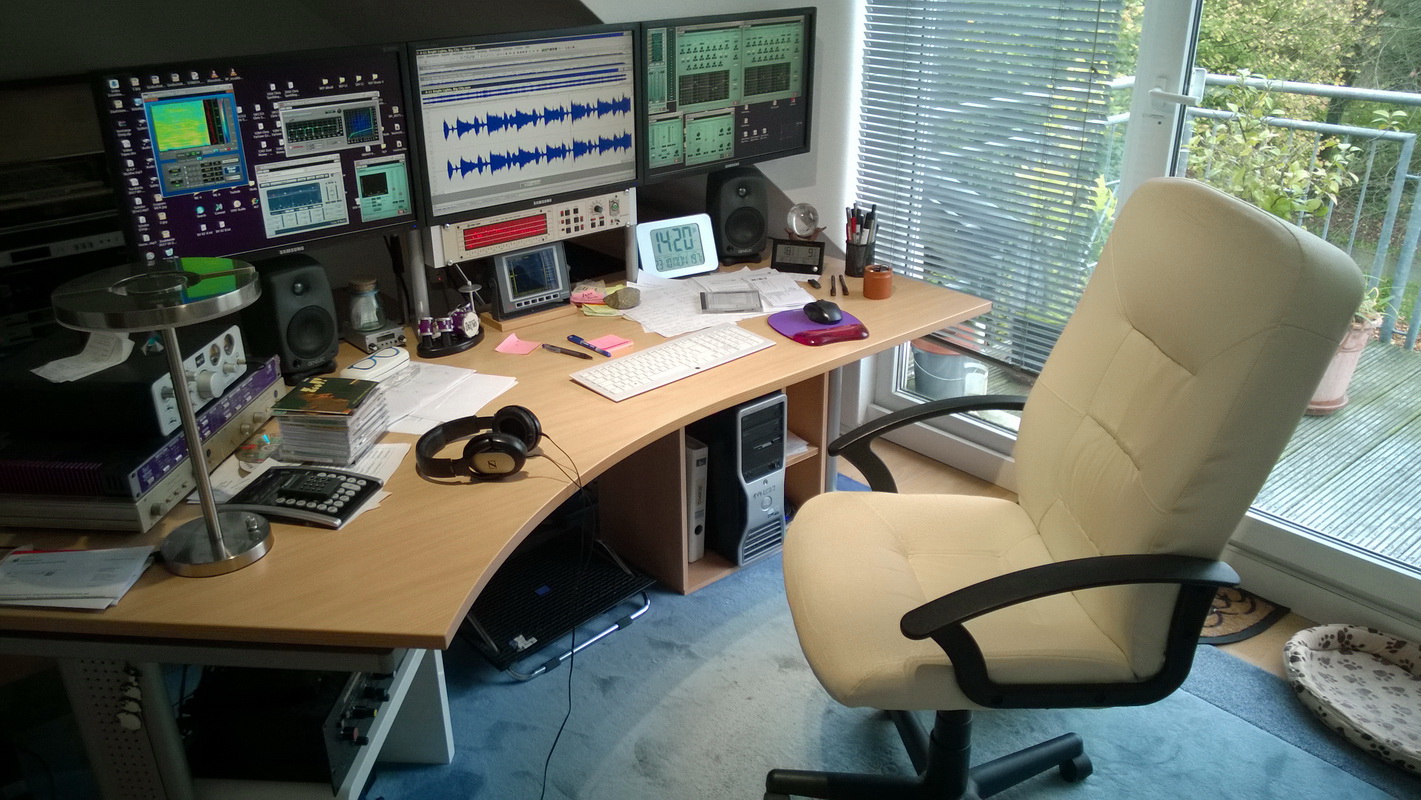 Everyone always wants to see the latest photos. Here you go: that's how it looks here now. But I'm not leaning proudly on any technology smiling mildly into the camera. I'm just over in the kitchen fetching me a coffee.


The best mastering worldwide...
EROC - more than 50 years of experience in music and studio:
1962 - 1966 First small recording studio facility with 2 tape-recordes
1966 - 1983 The Crew, Grobschnitt (Eroc 17 years as active musician, producer and technician)
1983 - 1998 Woodhouse Studio (Eroc 15 years as producer, engineer and studio-musician)
1998 - 2022 Eroc's Mastering Ranch (Eroc 24 years specialist for mastering technologies)
EMR - some well-known business partners:
Repertoire, Universal, Line-Music, BMG, Inside Out, SPV, Kamikaze, Nasoni, Drakkar, Roadrunner, Spacelab Studios, Goldsound Music, M.i.G, Blue Valley, Hypertension Music, Cherry Red Records...
EMR - more than 1.700 productions since 1998, each single one a reference for mix, mastering and remastering:
Productions from German und international acts in the passed 24 years, listed here in detail: Productions


...requires the best mix worldwide.
This is an older photo from 2008, but I still like it. Today the hair is grey, the room and the monitors are bigger and the work is still overwhelming. Every now and then something still has to be soldered....
PRICING:

Mastering per song: EUR 55,- bis 65,- (depending on track's length) -
STEM-Mastering per song: EUR 85,- bis 100,- (depending on track's length)_
Complete mix per song: EUR 150,- bis 300,- (depending on type & number of tracks) -
DDP master incl. PQ-coding, checksum, upload etc.: EUR 110,- -


The basis for an efficient enhancement of sound is the perfect mix. During the mastering process frequency response and compression are treated to get the sound into the direction of desired listening habits and references. It's obvious that this works more efficient the better the basic mix is. If all sonic proportions - single sounds and overall frequency response - are okay and the mix was professional done and at least slightly or better not compressed, the mastering as the "finishing touches" will attain the world reference class. If the mix contains defects the mastering process may cover them up a little, or on the other hand, actually points them out. So first and foremost step for a perfect mastering is a professional and qualified analysis of the source, something that's always guaranteed at EMR.
Everyone gets a free test-mastering of one track just to show what can be done to his mixes and where they probably will show defects. In case of defects we suggest changes and alterations for an optimal final result.
Mastering and remastering requires great experience since it's an art as well as a craft. Mastering means a great responsibility to the artists and all involved where nothing should be left to random chance. The saying "we'll fix everything during mastering" is as wrong as the eternal studio-lie "we'll get the ultimate bassdrum-sound later in the mix". Every experienced craftsman knows: the perfect final result depends on the quality of the preparation.
Another important advantage at EMR: Eroc himself as a long-time musician is a real afficionado when it comes to sounds and music. Disturbing things like time-stress, hourly wage and calculations are not applicable because pea-counting and compromises should have no room in music. Therefore at EMR, complete mastering with all necessary treatments costs a flatrate of Euro 55,- to 65,- per song, regardless of the level of involvement. For a bunch of songs discount is possible. The customer receives listening-CDs or files via server with the results to be compared at leisure in private against other productions. If changes are then suggested these will be done by EMR for free. Only when total satisfaction has been attained the final master will be provided.

EMR handles all common formats like DDP files directly via DSL to the servers of the factories, normal audio-CD for simple copies, ISRC-code, UPC/EAN, CD-text, additional video-tracks and much more.
Treatments are exclusively done with CubeTec systems by use of tools with the ultimate digital resolution of 24 bits (32 FP) / 384 kHz, another argument for the best possible sound...


For more information on CubeTec International check out: http://www.cube-tec.de
That's what we have to offer:
Enhancement of finished mixes (mastering)
Enhancement of older recordings (remastering)
Complete restoring of very old recordings and sources
Digitizing of analog sources (tapes, cassettes, vinyls, shellac)
Checking and expertizing of recordings and mixes
Remix rsp. STEM-mixing of studio-productions (on demand)

New and stunning:
The EMR Firebrigade - Complete testmastering in about 20 minutes...
The EMR Firebrigade
A well-know situation: you're sitting for hours or even days in a mix and your head is swirling. Is the bassdrum loud enough? Are the vocals too low? Should I use more compression? No problem thanks to the new Mastering Firebrigade at EMR: just a phone-call or an email to us, then upload a track onto our server and in about half an hour everything will be fixed - the mastered track is on the server ready for download, so that you then can easily judge how it sounds when mastered. And in addition you'll get some real good advice from an objective professional, because in this particular situation the "third" ear of an experienced colleague is worth more than pure gold.
This service is free for all regular EMR customers - and another good argument to become one...
2016...
Again another celebration-year!
On December 2nd the concert from Grobschnitt at WDR Rockpalast (TV) is released finally on DVD in a box, together with a brandnew remix of "Solar Music Berlin 1978), completely remastered by Eroc from the original analog tapes.
Eroc's knowledge and power occurs from decades of experience as musician on stage and as engineer and producer in the studios. Since the 60's Eroc profession is mainly music and recording, which brought him into close cooperation with many popular bands and personalities, whose listings here would blow up the party. Already in 1971 he joined recording and mixing with the legendary Conny Plank, leading into a close friendship and many productions for both of them. He also worked with people like Dieter Dierks and Walter Quintus in the 70s and today still helps his friend and colleague Mack (Queen, ELO etc.) with his mixes. Another argument for his work is his flexibility in many different genres. From restoring old recordings from the 20's, 30's and 40's up to bands of the 60's, 70's and 80's - from audiophile arts over to Punk, Hip Hop, Stoner-Rock, Kraut-Rock and the heaviest Metal, from classical operas and piano-concerts to radio-shows and commercials Eroc has treated in the passed 13 years nearly everything imaginable. And always up to each customer was fully satisfied.
Anything more to say? No. You better shut up 'n listen. Meanwhile Eroc's name is to be found and his work to be heard on millions of CDs and vinyls worldwide...
Listen - interview with Eroc about remastering in the Soundfiles show on WDR 2, sunday 2008-03-09:
Listen again - interview with Eroc about vinyl in the Soundfiles Show on WDR 2, thursday 2008-05-01:

Interview WDR 2 - 2008-05-01
Listen over and over - interview with Eroc about mastering and remastering in the Musikclub Show on WDR 2, tuesday 2009-02-24:
Interview WDR 2 - 24. February 2009


Who don't wanna listen should read: interview with Eroc about "loudness-war" in German Rolling Stone Magazine, issue February 2008:
Interview Rolling Stone - February 2008
Who likes reading - here's some more: interview with Eroc about "loudness-war" in German Audio Magazine, issue July 2008:

Interview Audio - July 2008
Caution: it's all in German...
Click the pages to enlarge